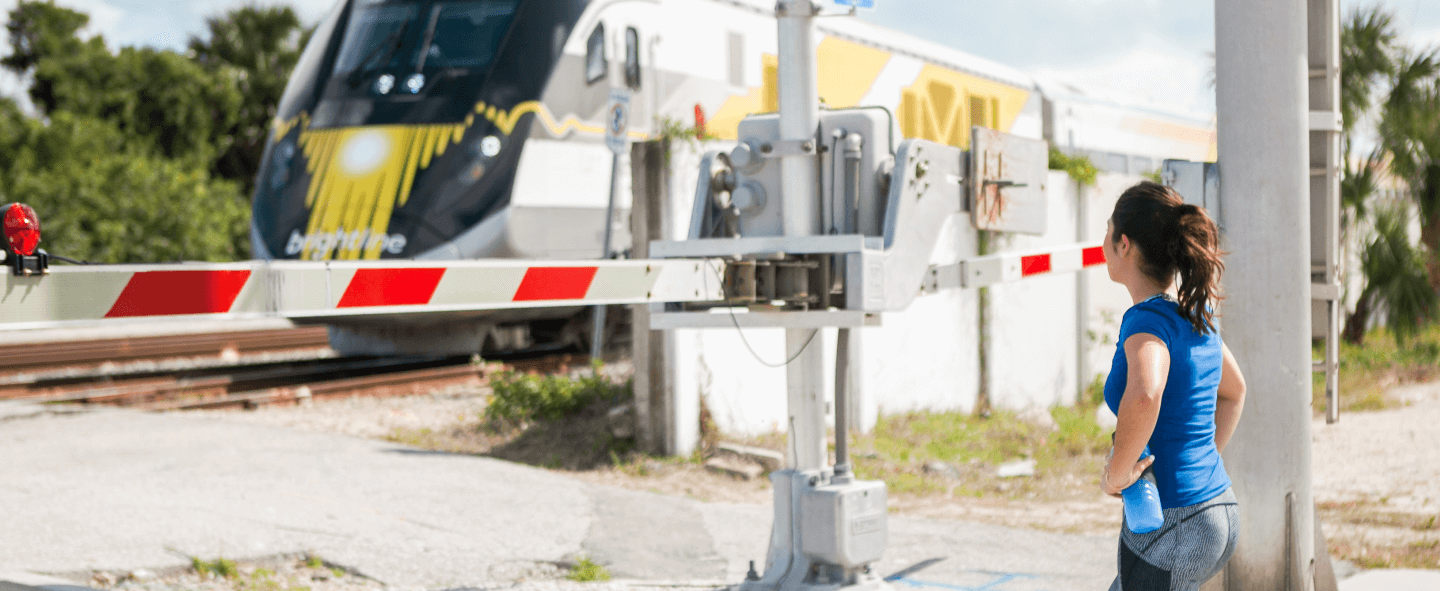 Get on board with rail safety.
When our communities are connected, everyone is affected. That's why it's so important we all take actions to stay safe around the tracks and improve rail safety with Brightline. After all, one bad choice or irresponsible action of not using caution around railroad crossings could have tremendous consequences. We hope the information on this page helps keep you, your family, and your entire community safe. Take the Brightline Safety Pledge today.
Take the pledge and share with your friends
I will cross only where there are crossing signs
I will never cross tracks when a train is moving
I will never chase the train
I will never try to outrun a train
I will never trespass on tracks. It's against the law!
I will never walk or bike along train tracks
I will never wear headphones or earbuds around train tracks
I will stay behind the yellow line on train station platforms
I will always look both ways before crossing the tracks
I pledge to be safe around railroad tracks and trains.
<FirstName>,
Thanks for getting on board with rail safety! Help us spread the word within your community and on social media.
View more mental health and safety information by visiting our RESOURCES section below.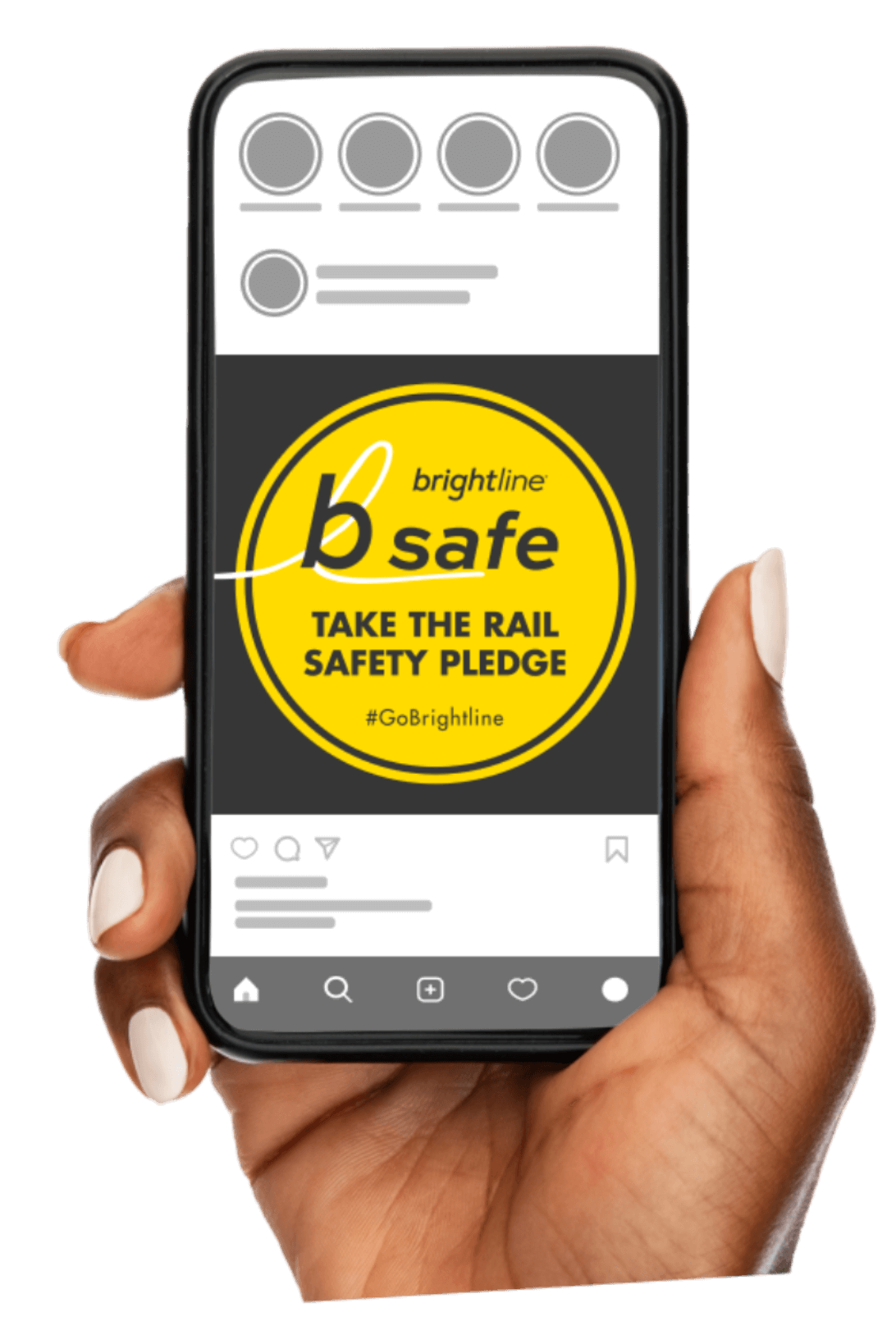 Brightline
safety resources
Safety social media posts for

Download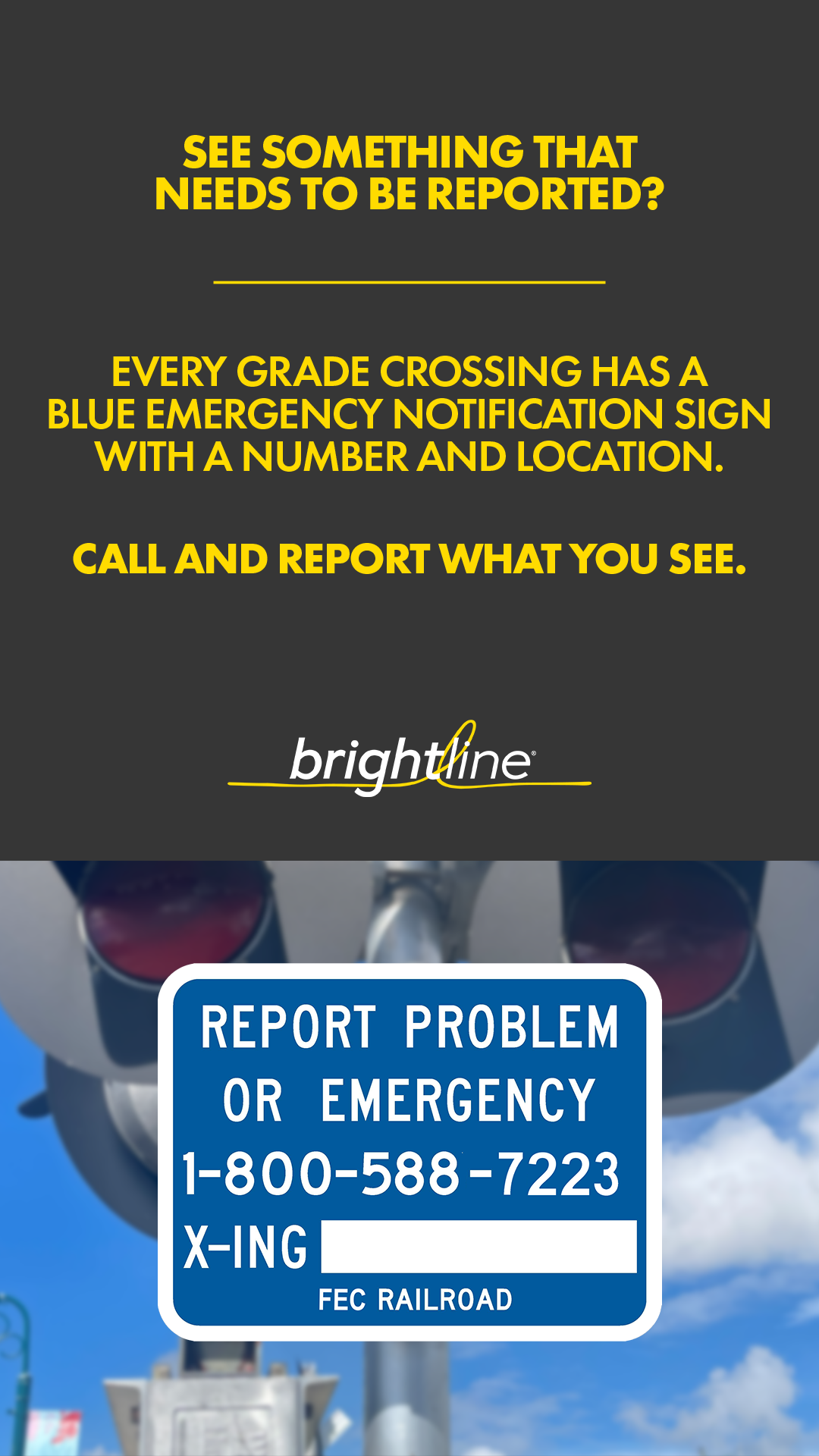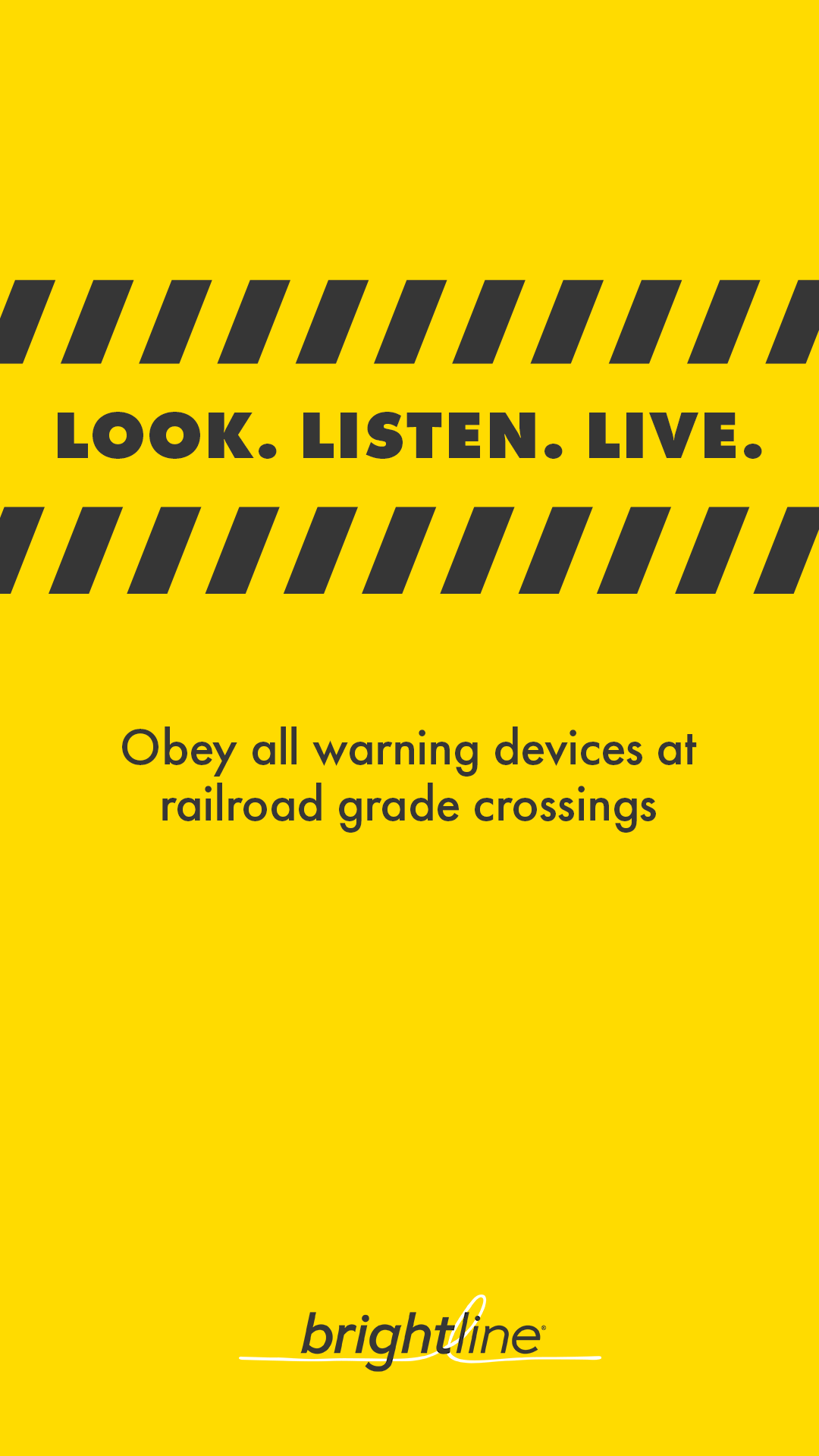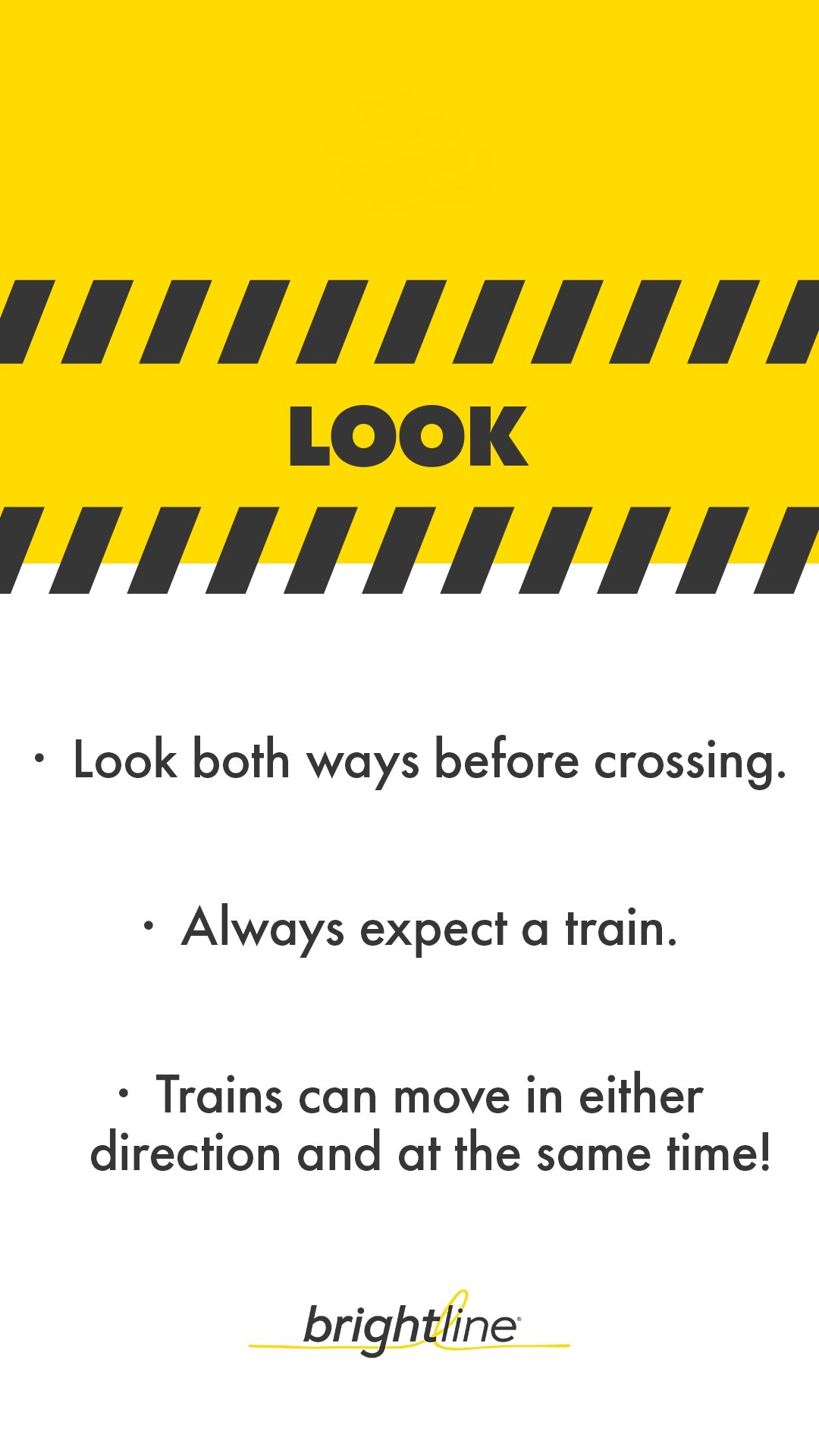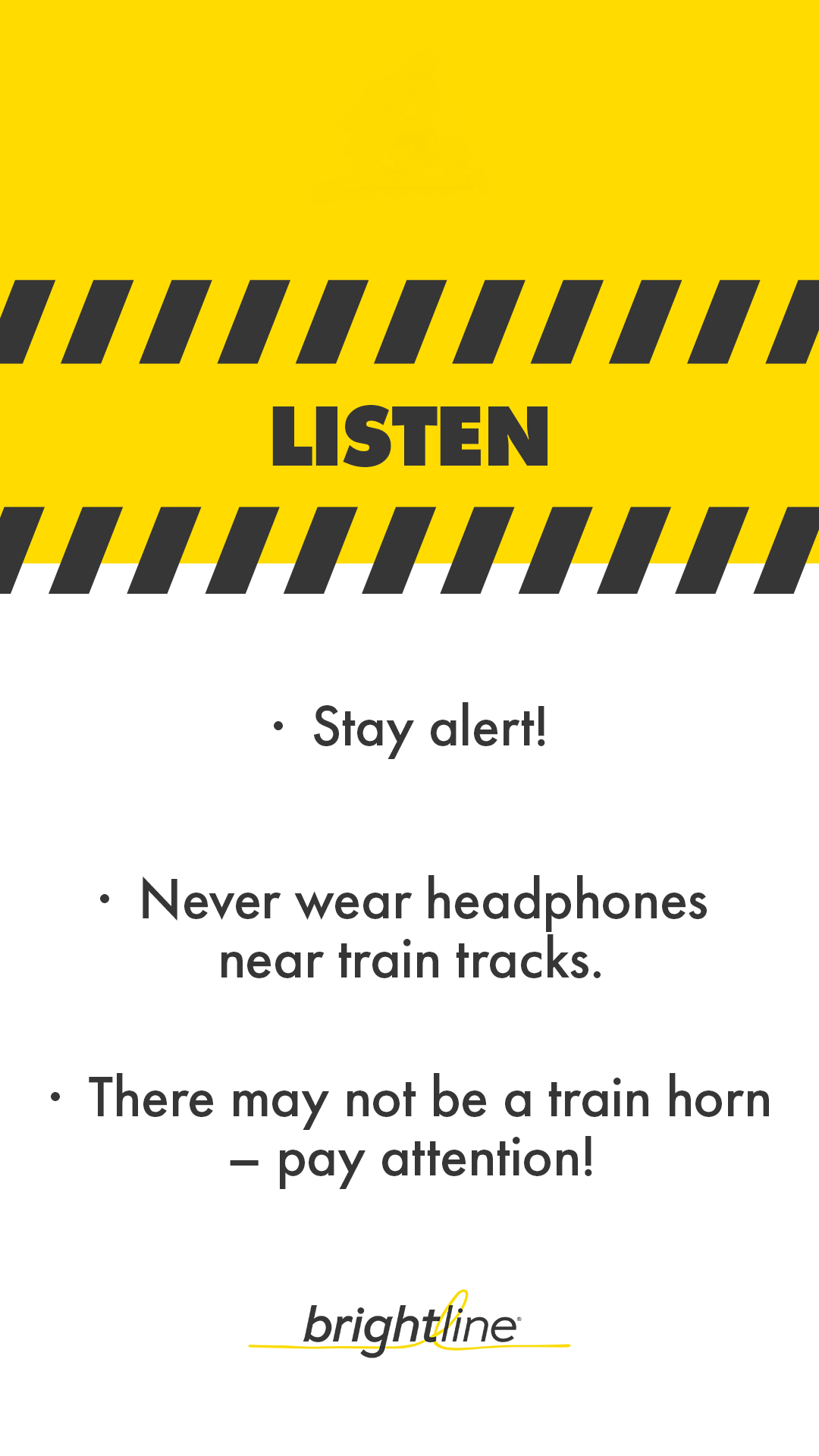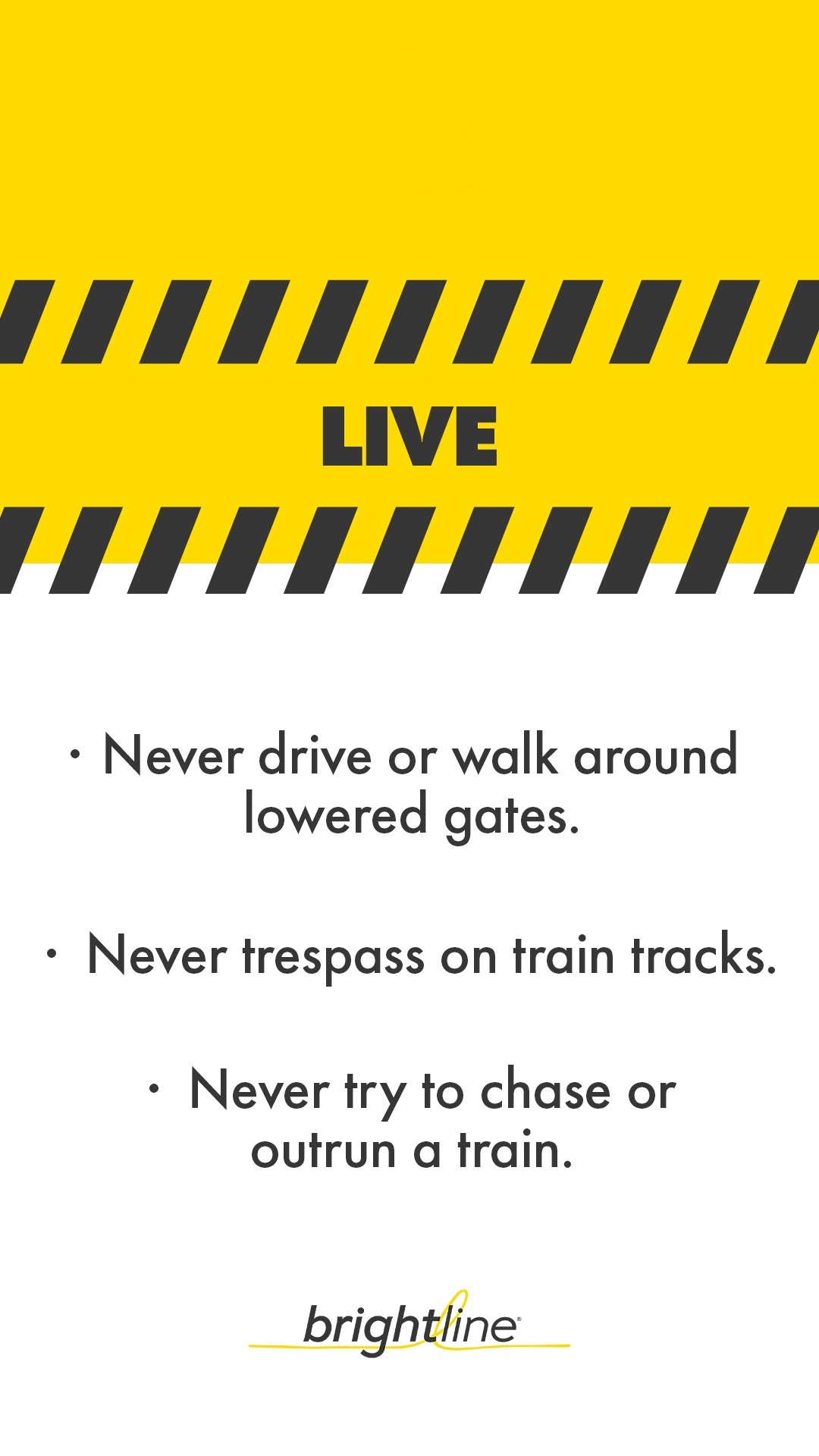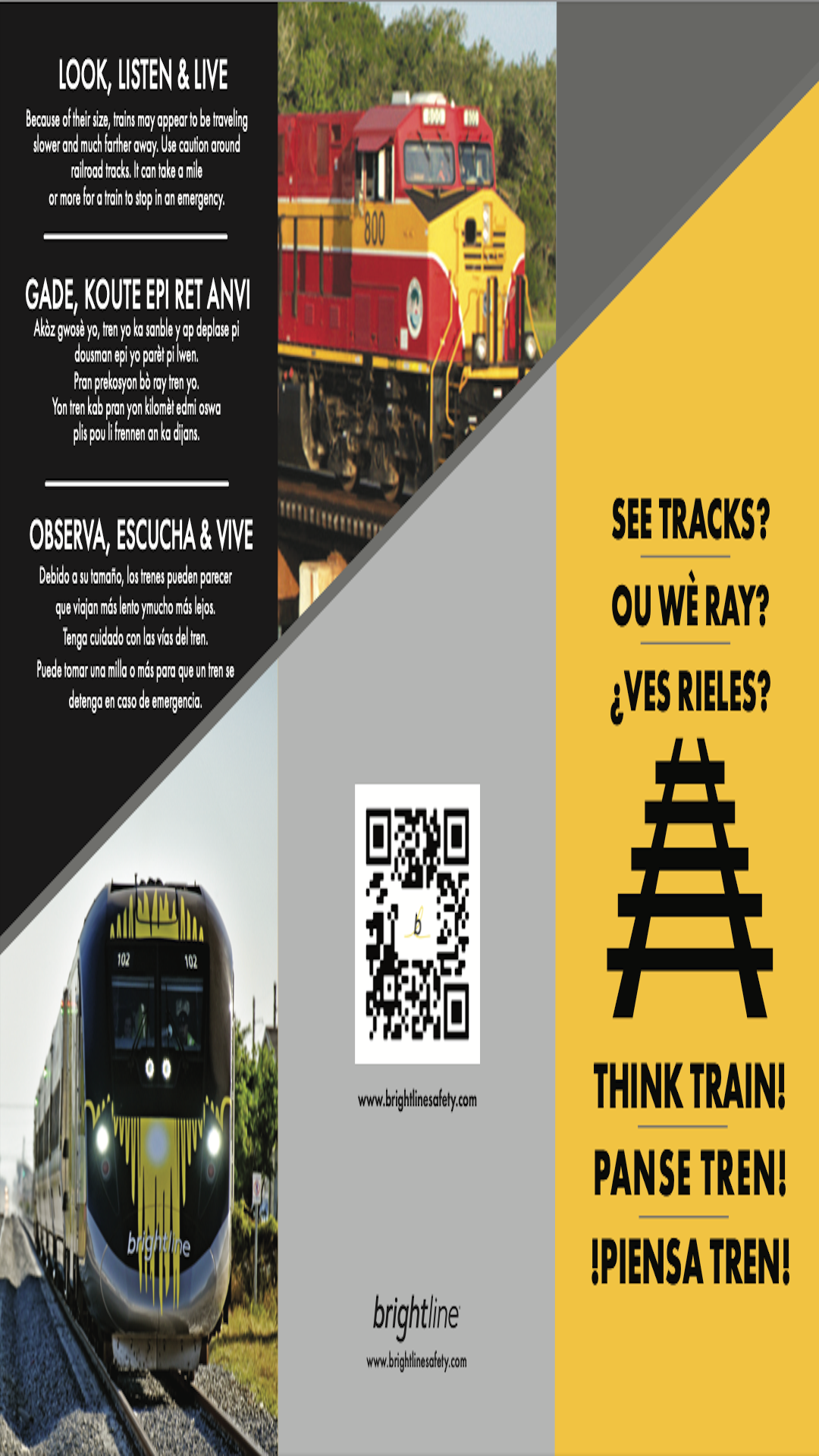 Get on board with the
signs and signals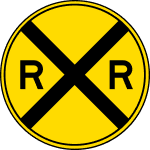 Advance Warning
Warns drivers that the road ahead crosses railroad tracks. A good reminder to slow down, look and listen for a train.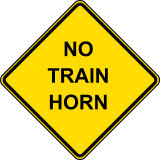 NO TRAIN HORN
An established quiet zone where the train will not be sounded unless there is an emergency or workers are near the tracks.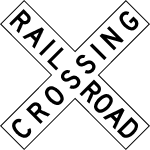 crossbuck
Yield to trains at this location. This is the only place where it is safe to cross the tracks. Never cross the tracks in any other location.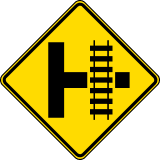 side street warning
Warns that a highway-rail intersection will appear immediately after making a right or left turn.
Since trains are big, they may appear to be traveling slower and much farther away. It can take a mile or more for a train to stop in an emergency. So, get on board with rail safety and use caution around railroad tracks.

Look
Stay behind the yellow lines at train stations.
Always look both ways before crossing tracks
Cross only where you see designated crossings

listen
Trains are quiet, be super alert!
Never wear headphones
near the tracks

live
Never cross tracks when you
see a moving train
Never trespass on the tracks.
It's against the law!
Never try to chase or outrun a train
Never walk or bike along train tracks
The latest on Brightline's
safety efforts
Connecting communities via
rail safety
We're committed to optimizing safety for the communities we serve. Learn more about how we're leading the way.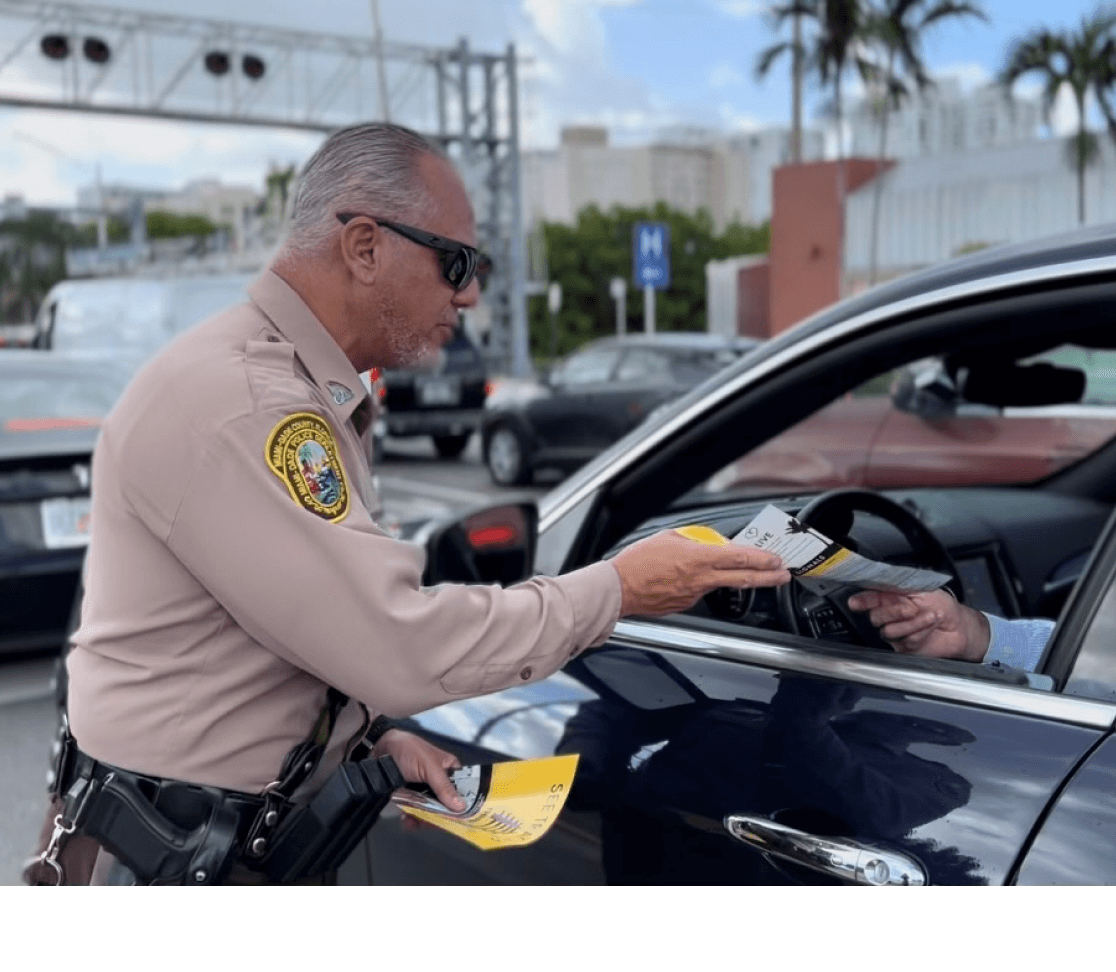 A police officer hands out safety information at a Brightline crossing.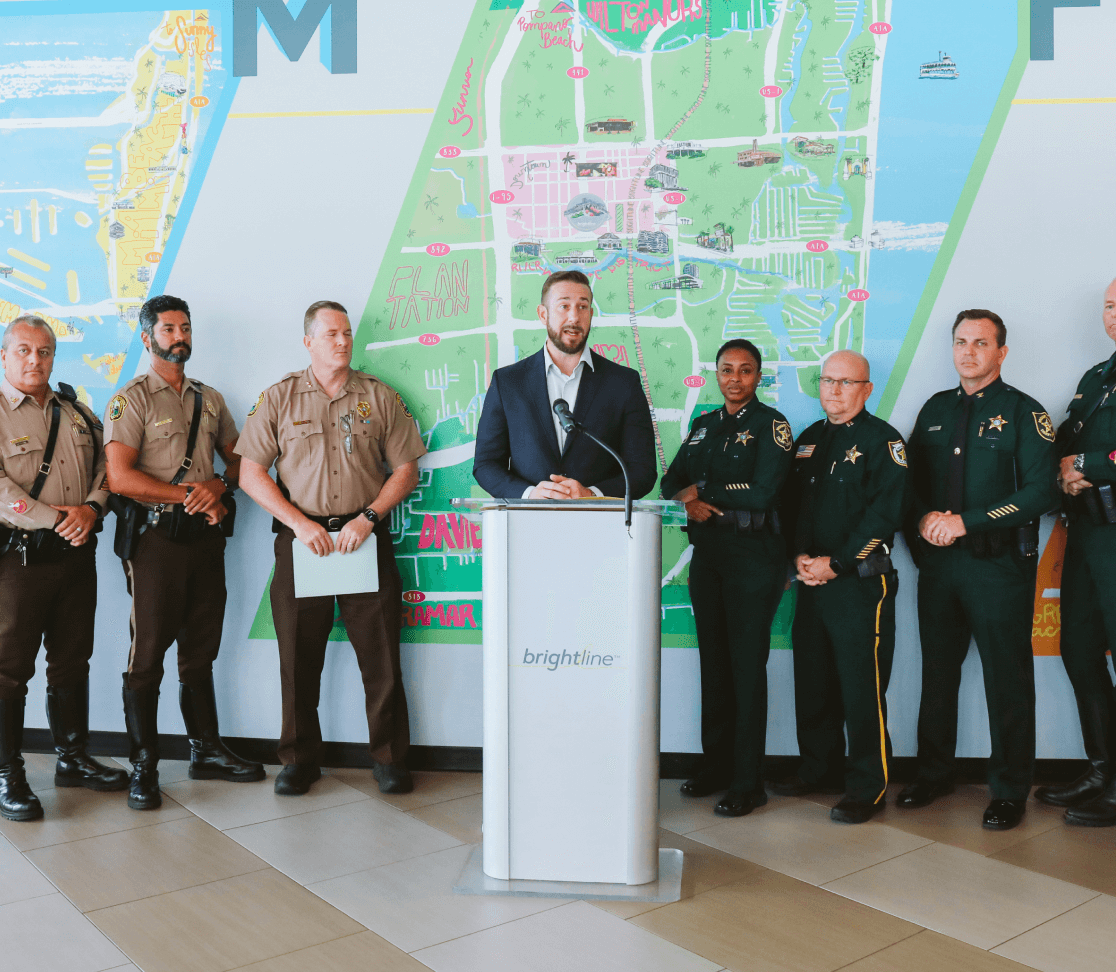 Brightline President Patrick Goddard announces Rail Safety Week.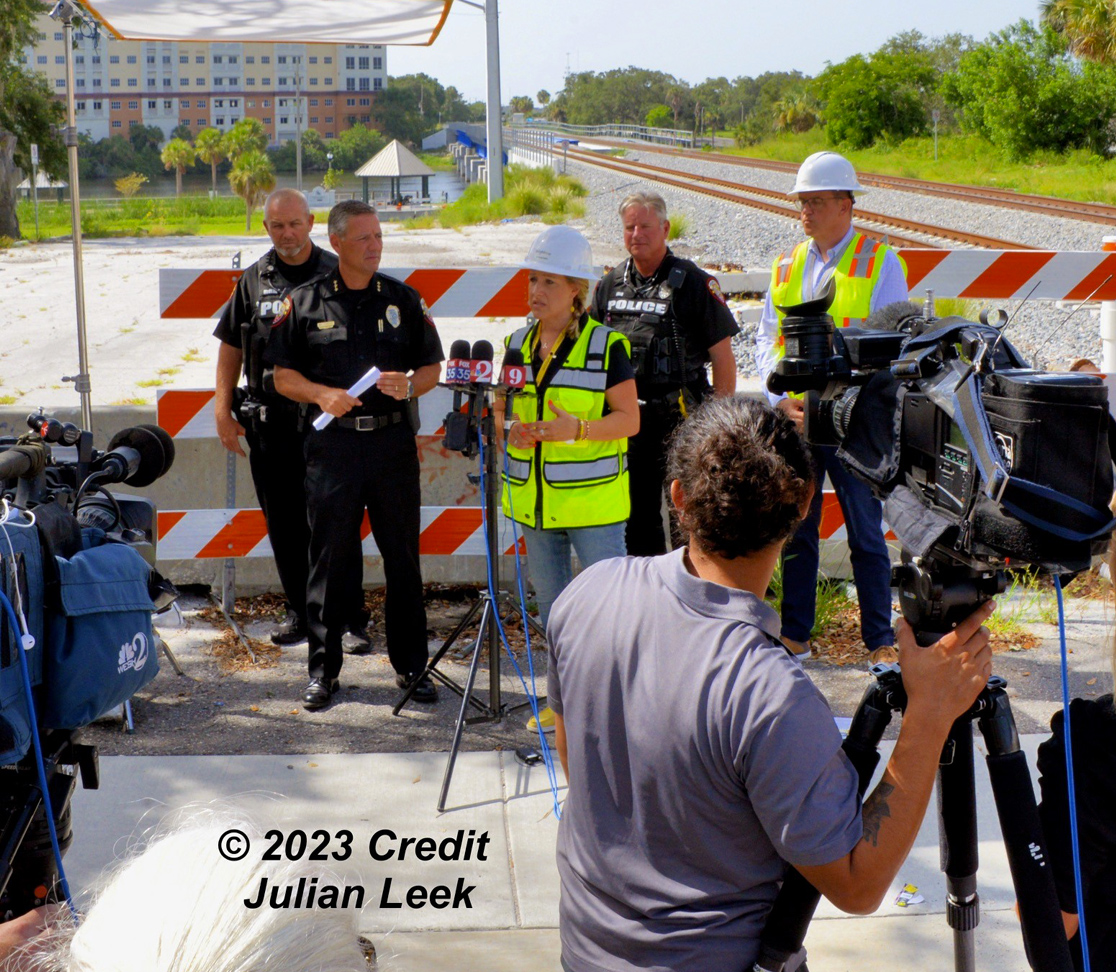 Brightline PR and Safety partner with Melbourne PD at a press conference to talk rail safety along the Orlando extension.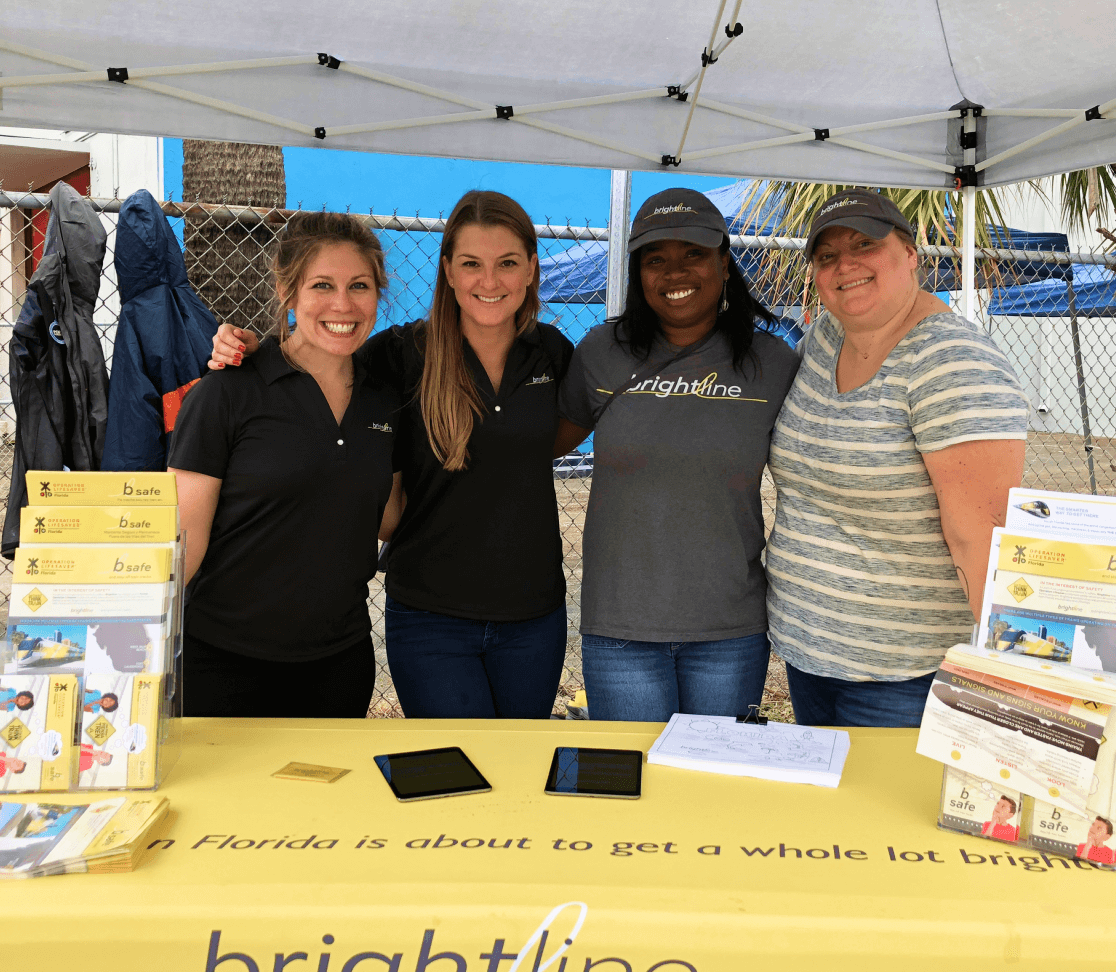 Brightline teammates on hand to answer safety questions at a local event.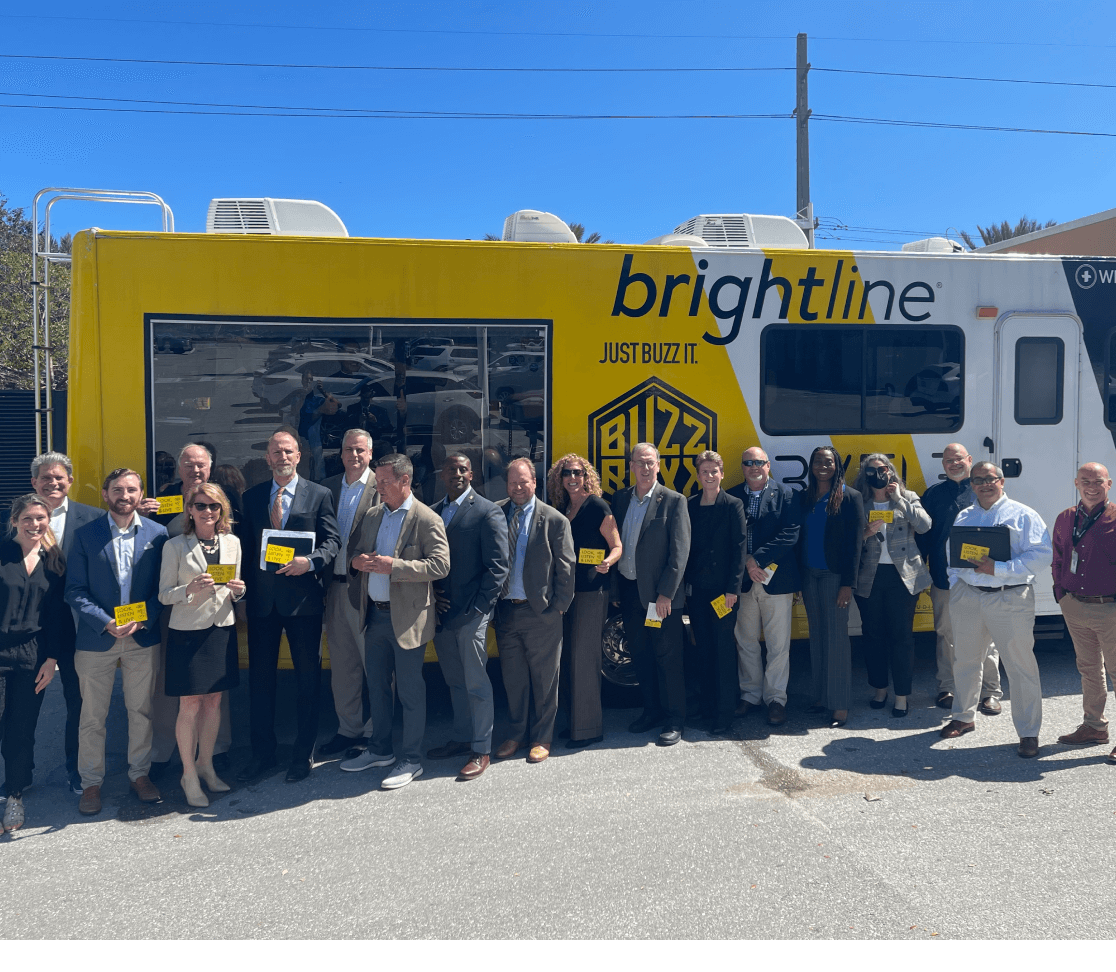 The Buzz Boxx and members from the Federal Railroad Administration share their rail safety pledges.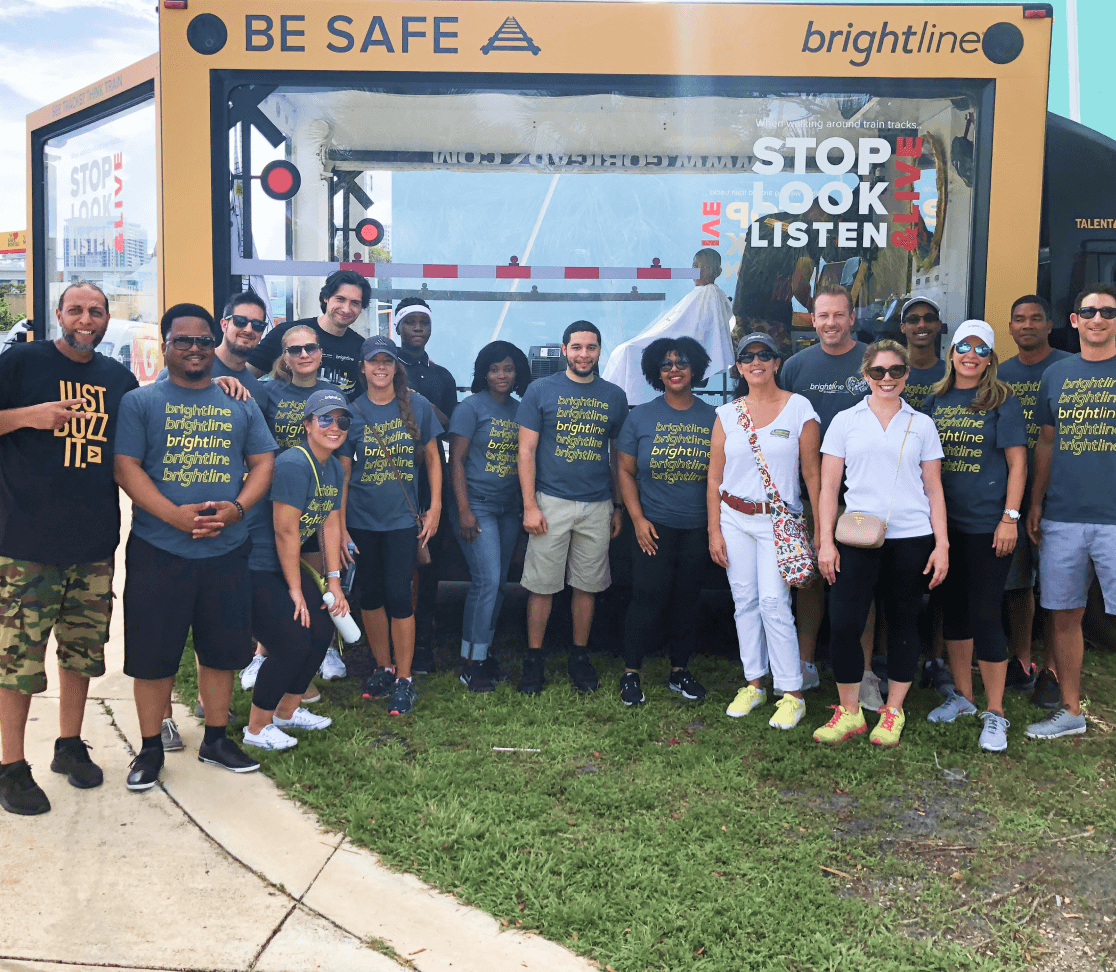 Brightline teammates and the Buzz Boxx at a community event.
Download and share
rail safety tips
We partner with Operation Lifesaver, a nationwide non-profit, dedicated to raising overall awareness around rail safety. Together, we developed these safety materials with Operation Lifesaver just for you. Please read and share with those in your community and be safe by staying off all railroad tracks.
fact sheet
Get on board with rail safety and get the facts with this helpful guide.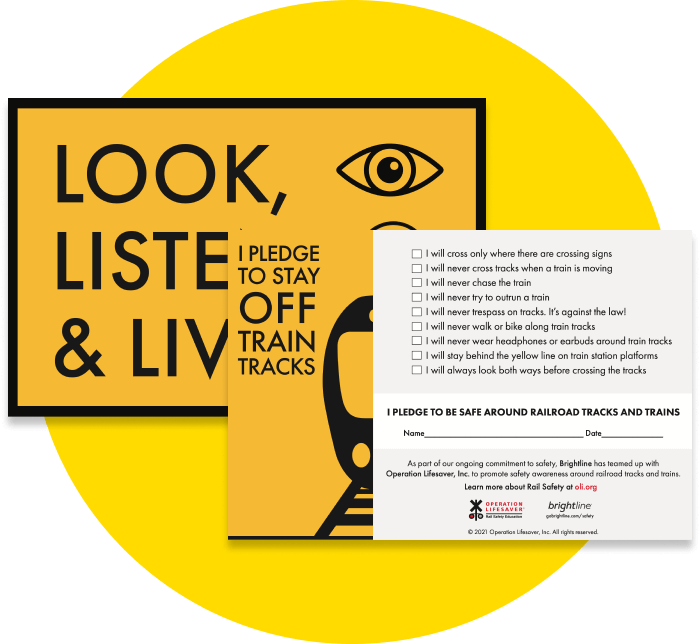 pledge card
Print a phsyical pledge card to distribute in educational settings
Mental health and safety
resources
211 Help Line
211 is the most comprehensive source of information about local resources and services in the country. Thousands of caring, local experts are available for confidential, anonymous help, 24/7.
The Dr. brandt foundation
The Dr. Brandt Foundation is dedicated to supporting the mental health and well-being of diverse and underserved communities and to bring awareness to mental health issues such as depression and suicide prevention.
Operation lifesaver, inc.
Operation Lifesaver, Inc. (OLI) is a non-profit organization and nationally-recognized leader of rail safety education. OLI is been committed to preventing collisions, injuries and fatalities on and around railroad tracks.
We're here to provide
training and support
If you're interested in a Brightline representative providing safety training, please contact safety@gobrightline.com